10

Feb 16
Thomas Mosley
US Marine Corps
11 FEB 2016
Steelton, PA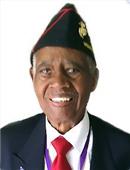 The family of Thomas "Tommy" Mosley has requested the Patriot Guard Riders to stand to honor his service to our nation at his funeral and interment, Thursday February 11. Tommy was among the first African-Americans known as the Montford Point Marines to be inducted into the Marine Corps and the first from Steelton.  In 2012, he received The Congressional Gold Medal (the highest civilian award in the United States) for pioneering full integration of the United States Marine Corps.  Thomas Mosley is a patriot who served our country with honor and now it's our turn to stand and honor him.
VISITATION & FUNERAL SERVICE: Visitation 0930 HRS, Service 1100 HRS
Sanctuary at Beulah Baptist Church
100 Livingston Street
Steelton, PA 17113
MAP: https://goo.gl/maps/WArKhn5Ae2k
Staging: 0900 HRS at the church.  Cages welcome.
ESCORT AND INTERMENT CEREMONY: Following service
William Howard Day Cemetery
801 Lincoln Street
Steelton, PA 17113
MAP: https://goo.gl/maps/tp9B6j6D5mT2
Escort approximately 1.5 miles.
RCIC: Dale McGinnis, RC-Region 8
Email: pgrpa.vetrep.east@gmail.com
Phone: 717-887-4679
National Link: https://www.patriotguard.org/showthread.php?411934

2016