Welcome to PGRPA Store

Our store IS NOT associated with the PGR National Store, we do not stock their items at this time nor do they stock PGRPA items.

 See below for items and check out using your credit/debit card or account with PAYPAL. You do not need a Paypal account to use your credit/debit card.  Paypal processes the credit/debit payments for us.    After adding your item[s] to the cart by clicking the "Add To Cart" button, you will see the cart at the bottom of the page; or in the sidebar on the right of any page.
If you do not wish to use credit/debit card or your Paypal account, please send your order or donation to:
Patriot Guard Riders – PA
789 Washington Pike
Avella, PA 15312
For phone orders and donations call:  724-587-5626
---
---
Larry S. Matvey Memorial Patch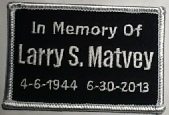 $5.00 ea.
Make check payable to:  Ralph A. DeLorme.
All Proceeds go to PGRPA

Please send a self addressed and stamped envelope to
Ralph DeLorme
177 Grant Ave.
Vandergrift, PA 15690
For 3 or more patches, please add additional postage to your envelope.