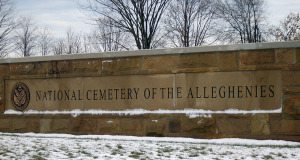 https://www.patriotguard.org/showthread.php?396229
Missing in America Committal Service
Donald Lee Bickerton, USMC Veteran, Cold War Era
Frank Cassata, US Army Veteran, Korean War Era
Boyd William Hooks, US Army Veteran, Viet Nam Era
Frank Allen Kelley, USMC Veteran, Viet Nam Era
Leo Vincent O'Donnell, US Army Veteran, Korean War Era
Clayton Raymond Pascuale, US Army Veteran, Korean War Era
Bridgeville, PA
6 November 2014
The Missing in America Project has requested that the Patriot Guard Riders stand in silent honor of these six Veterans as they are committed to the National Cemetery of the Alleghenies for interment.
Thursday, 6 November 2014
Flag line: 10:00 AM
National Cemetery of the Alleghenies
1158 Morgan Rd.
Bridgeville, PA 15017
Staging: 9:15 AM Memorial Walkway area (POW flag circle) at the cemetery
Briefing: 9:45 AM
Please remember to bring your 3X5 handheld flags. Watch the weather and dress accordingly.
Remember that the National Cemetery is a federal reservation and no weapons are permitted.
Ride Captain: Jim Shaw
412-217-5967