11

Nov 16
Larry P Edwards
Navy & Army Reserves Veteran
12 NOV 2016
Lebanon, PA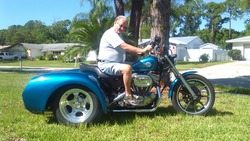 The family of military Veteran Larry P Edwards has requested the Patriot Guard Riders stand to honor his service to our nation at his funeral, escort, and interment Saturday, November 12th.  Larry served in the Navy during the Vietnam War, and then joined the Army Reserves.  Larry Edwards is a patriot who served our country with honor and now it's our turn to stand and honor him.
FUNERAL:   Saturday, 11/12,  Visitation 1000 HRS, Funeral 1100 HRS
Thompson Funeral Home
126 South 9th Street
Lebanon, PA 17042
MAP: https://goo.gl/maps/pcKWaUgCGr52
Stage:  0930 HRS, at the funeral home
ESCORT & INTERMENT:  following service
Holy Cross Cemetery
Lebanon, PA  17042
Escort approximately 3 miles.
RCIC:  Dale McGinnis, RC-Region 8
Email:  pgrpa.vetrep.east@gmail.com
Phone:  717-887-4679

2016