Cpl. Matthew Hanes
US Army Global War on Terrorism Veteran
14 AUG 2015
York, PA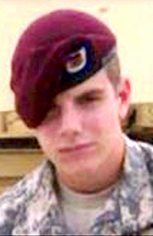 The family of Cpl. Matthew Hanes has requested the Patriot Guard Riders to join in honoring his service to, and sacrifice for, our nation at his funeral service, escort, and interment Friday, August 14.  Matt was critically wounded in Afghanistan in 2012, and in 2013 the PGR participated in the nearly 100 rider escort to bring him home to Manchester.  Following experimental treatments to repair his damaged spinal cord, Matt appeared to be making progress toward recovery.  His unexpected death leaves a community grieving the loss of their hometown hero.
Private family viewing begins at 0800; public viewing starts at 0900 and goes until services start at 1300.  Following funeral services, Matt will be escorted to Mt. Rose Cemetery for interment.  Matthew Hanes is a patriot who served our country with honor and now it's our turn to honor him..
VIEWING & FUNERAL SERVICE,  14 AUG 15  0800 Viewing, Service 1300 HRS
Memorial Hall, York Fairgrounds
York, PA  17404
MAP:  https://goo.gl/maps/SiWDz
Staging:  0730 HRS
At the Market Street entrance to the York Fairgrounds
Please bring 3' x 5' American flags
This is a long mission; it's okay if you can't make the entire time, please try to make what you can.
ESCORT & INTERMENT,   following funeral service
Mt. Rose Cemetery
1502 Mount Rose Avenue
York, PA  17403
MAP:  https://goo.gl/maps/5p6AS
There will be LEO for escort
RCIC:  Steve Vassar, SRC-Region 8
Email:  unionff428@aol.com
Phone:  717-648-0095
National Link:  https://www.patriotguard.org/showthread.php?407117