25

Sep 16
Corey M. Samuels
USMC Global War on Terror Veteran
27 SEP 2016
Slatington, PA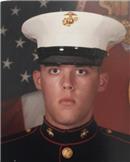 The family of Global War on Terror Marine Veteran Corey M Samuels has requested the Patriot Guard Riders stand to honor his service to our nation at his memorial service Tuesday evening, September 27. Corey did two tours in Afghanistan, and a Humanitarian tour in Haiti. Full military honors will be presented at the funeral home following the service. Corey Samuels is a patriot who served our country with honor and now it's our turn to stand and honor him.
MEMORIAL SERVICE: Visitation: 1900 HRS Service: 1930 HRS
Harding Funeral Home
25-27 N 2nd Street
Slatington, PA 18080
Map: https://goo.gl/maps/kGP9mGwMcEU2
Staging: 1830 HRS
At the Funeral Home. Flag line only; cages welcome.
RCIC:  Bill Ryan, RC-Region 5
Email: patriot@rcn.com
Phone: 610-462-5161
National Link: https://www.patriotguard.org/showthread.php?422977

2016