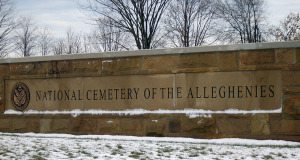 https://www.patriotguard.org/showthread.php?396517
Veterans' Day Honors Ceremony
Bridgeville, PA
11 November 2014  
Patriot Guard Riders PA has been invited to stand a flag line at the National Cemetery of the Alleghenies on Veteran's Day.
Tuesday, 11 November 2014, Veteran's Day
Flag Line: 11:00 AM National Cemetery of the Alleghenies
1158 Morgan Rd.
Bridgeville, PA 15017
Staging: Between 7:30 AM and 10:00 AM
Where: Cremation & Funeral Care by Danielle
3287 Washington Rd.
McMurray, PA 15317 http
Breakfast: Breakfast will be served between 8:00 AM and 10:00 AM during staging compliments of Cremation and Funeral Care by Danielle Andy Belusko.
Briefing: 10:00 AM
Leave for National Cemetery: at 10:15 AM
For those riders who will not be attending breakfast and wish to go straight to the cemetery:  Stage at the cemetery at the Memorial Walkway (POW flag) at 10:45 AM  
Please pay attention to the weather and dress accordingly. Bring a clean 3 x 5 American Flag.
Remember that the National Cemetery is a federal reservation and no weapons are permitted.
Ride Captain: Aaron Zeff, 412-491-3383, delta@cobweb.net