My brothers and sisters,
I wanted you to know that the Association of the United States Army has awarded their prestigious National Service Award for 2017 to the Patriot Guard Riders. It was my honor as your President to accept this award on your behalf at the AUSA National Meeting in Washington DC.
It's truly not about us, but about our servicemen, women and their families and it was truly a humbling experience to be acknowledged for our service to the Army Community for these past 12 years.
As you can see form the image below, the award is just beautiful. It's bronze and granite and at the base of the soldier is inscribed "Not for themselves, but for their country".
Just a few days after I got home the PGR participated in the dedication of the Global War on Terrorism Memorial at the National Infantry Museum here in Columbus GA. Etched in granite panels are the names of the almost 7000 men and women that have given their lives in defense of our freedom since 9/11. It is truly a magnificent memorial. As I walked among these panels I recognized so many names and it occurred to me that every single hero that we have stood for in our 12 years is represented here. That realization brought me back to the inscription on the AUSA award, "Not for themselves, but for their country".
Think about that for a minute and what means to you and your family. Think about honor and respect and courage and what that really means.
My brothers and sisters our mission is far from complete, we have much to do. Please think about your participation and how important it is. Every mission, every flagline means everything to the families we serve. You want to make statement, make a difference? Keep doing what you're doing.
I'm honored to stand with you.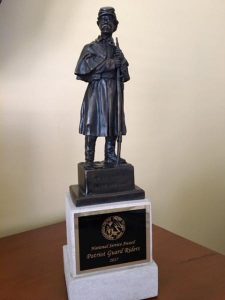 2017