David W. Hines
Patriot Guard Rider & American Legion Rider
17 JUN 2015
Red Lion PA / Bel Air MD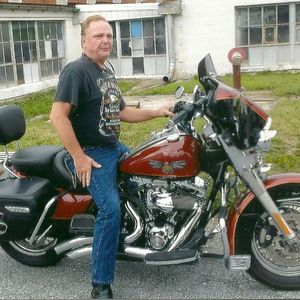 The family of American Legion Rider and Patriot Guard Rider David W. Hines has requested the Patriot Guard Riders stand to honor his commitment to our nation and the PGR at his funeral service, escort, and interment Wednesday, June 17.  Dave was a member of Red Lion American Legion Post 543, and was very active with both the American Legion Riders and the PGR.  Following funeral services in Red Lion, Dave will be escorted to Bel Air, Maryland for interment.  David Hines is a patriot who loved his country and stood for others with the PGR.  Now it's our turn to stand for him.
NOTE:  The American Legion Riders are standing a flag line for a viewing Tuesday evening from 1800 to 2000.  The viewing will be at Burg Funeral Home in Red Lion (see below).  All PGR are welcome to join the flag line to show their respect. 
VIEWING & FUNERAL SERVICE,  17 JUN 15  0900 Viewing, Service 1000 HRS
Burg Funeral Home
134 West Broadway
Red Lion, PA  17356
MAP:  https://goo.gl/maps/osUXv
Staging:  0830 HRS
At the funeral home
Please bring 3' x 5' American flags
ESCORT & INTERMENT,   following funeral service
Bel Air Memorial Gardens
Bel Air, MD
MAP:  https://goo.gl/maps/wvHMW
PGR PA will coordinate with MD PGR for the Bel Air interment.
RCIC:  Dale McGinnis, RC-Region 8
Mission Inquiries:
Dale McGinnis, PGRPA Vet Rep East
Email:  pgrpa.vetrep.east@gmail.com
Phone:  717-887-4679